Solar geysers have now spread across every corner of the town. sus304 solar geyser price list, Its usefulness and contribution are indescribable. About solar geysers prices,there are many consumers who have the potential to purchase solar water heaters. Therefore, it is very helpful to know the price list of solar geysers as soon as possible. It can be helpful for everyone's purchase, and it can also increase everyone's awareness of environmental protection.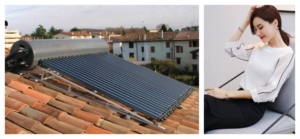 Can the customers of the sus304 solar geysers accept the price?
Solar geysers use the sun's renewable energy to heat up homes and businesses. The devices release less gas and carbon dioxide into the air. Solar geysers prices are worth it for anyone who wants to protect the environment. There is plenty of technical information about solar water heaters and installers available.
The solar water heater price list may seem high, but the costs are reimbursed over time through significant monthly savings. Anyone in need of more details should contact ESCOO experts.
About Solar Geyser Price Introduction
Energy Efficient Geysers are becoming more popular among South African home owners, because they fix the problem of high electricity bills. Interestingly enough, using the sun to heat water has been around for quite some time. In fact, it's a technology that can be traced back to before the 1900's.
Of course these systems weren't nearly as efficient as those we use today, but it's the idea behind it that counts. One of the main reasons why South Africans invest in Solar Geysers is because conventional geysers use great amounts of power. They contribute to the biggest part of your electricity bill.
And while solar geyser prices continue to rise, it's only logical that you'll start looking for cheaper alternatives.
About sus304 solar geyser  price list
Before you start shopping we recommend doing a thorough assessment of what you need. A good place to start is to check whether you'll require a new tank.
If the one you have is in good condition and relatively modern, it should be able to support a retrofit kit. A kit like this comes with the necessary components to convert your geyser into a solar geyser. You'll notice that each kit caters to a different tank size and budget.
| | |
| --- | --- |
| sus304 solar geyser tank capacity ( ltr) | price($) |
| 100 | $120 |
| 200 | $180 |
| 300 | $200 |
You may like:
Related Searches: Flat plate solar water heater | Electric storage water heater | Air source water heater
Want to know more?(Solar Water Heater)
Email: [email protected]
WhatsApp:+86 157 2077 3477
Skype :+86 157 2077 3477