About the price of 100l solar geysers, you can visit our website in depth and write us an e-mail. We will give quotes for 100l geysers. 100l geysers are mainly used for home roofs, farms, and animal husbandry. The quality of our products is reliable. Email:order@escootrading.com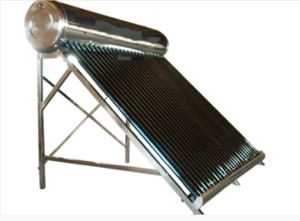 Work Principle
---
Thermosyphon solar water heater adopt simple thermal circulation, cold water heated by collector, and then hot water go up to tank, cold water in tank flow into collector, cold and hot water form a natural circulation in solar water heater, the whole tank water will be hot water gradually.
Email:order@escootrading.com
Features and advantages:
---
1. Inner Tank: o.41mm SUS304-2B food grade stainless steel (optional material: SUS316L).
2. Outer Tank: o.31mm color steel (SUS304-2B).
3. Bracket: galvanized steel plate with plastic spraying, thickness 1.2mm/1.5mm, angle 20°/30°/40°/45°.
4. Insulation: 55mm polyurethane layer.
5. Vacuum tube material: borosilicate glass 3.3; AL-SS-CU absorb coating
6. Seal material: Stabilized High Temperature Silicon
7. It resists 25mm hail.
8. Heat preservation: 72 hours
Working principle:
---
1.Anti-freezing: No water in the vacuum tube, so it still can work well even several tubes are broken.
2.Intelligent controller,electric back up heater and automatic, work at anytime and enjoyable.
3. Easy plug-in installation. Whether installed on slopes or flat roof.
4.Compact pressurized system tank can work withstands over 6 bar water pressure.
5.The hydraulic pressure is same as tap water and it creats a comfortable bathing.
6.It has T/P valve, air vent makes the system work very stable and safety.
7.Can be used all year round in the cold climate.
8.Start up quickly, heat pipe transfer the heat energy into the storage tank in one direction.
Email:order@escootrading.com
Our Services
1. Sample orders for trial allowed, while necessary sample charges will return back with your bulk-order.
2. OEM & ODM are acceptable with your confirmed file for us to print your logo.
3. Local or oversea projects could be operated together with you.
4. 3 years guarantee. Any problems as quality would settle until you satisfied.
5. good quality + competitive price + reliable service are what we provide our products with.
2015 Hot Selling Compact Non-pressure Solar Hot Water Geyser Price 100L 150L 200L 250L 300L
Email:order@escootrading.com
Installation:
---
assemble the stand
put the tank
put the reflectors
put the pipes (the vacuum pipes do not have to be exposed to direct sun light, before you connect it with the water system)
connect the tank
connect with the water system
connect with the controller
Email:order@escootrading.com
Related Searches: Flat plate solar water heater | Electric storage water heater | Air source water heater
Want to know more?(Solar geyser)
Email: order@escootrading.com
WhatsApp:+86 177 5162 6279
Skype :+86 177 5162 6279