Flat plate solar water heater(pressurized type)
Flat plate solar water heater manufacturer –  If you want to buy we will customize your product according to your requirements and will give you a cheaper price,The customers often prefer flat panel solar water heaters. We will specifically recommend him solar products suitable for them.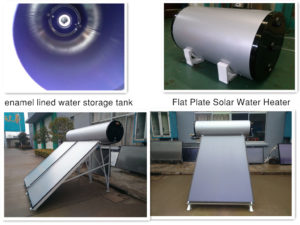 Product Description:
Safe and steady
Flat plate solar collector uses all cooper fluid tube; System operating is steady; components are not easy to be damaged;
Pressurized operating
Working pressure is 0.6Mpa; designed pressure is 1.2Mpa; the hot water is forced to stream out from the top; it is convenient to use.
High heat efficiency
Absorbing coating of the collector is black chrome and blue sputtering; absorbing rate is 92-96%, and emission rate is 5%-15%; heat efficiency is high
Good temperature preservation
Thickness illustration layer is 50mm; constant temperature high pressure quantitative foam; less than 5 Celsius Degree per 24
Long using life
Inner tank is 1.2-2.0mm stainless steel; resist high temperature and corrosion; 15 years using life.
Several models fulfill different user need
According to customers' requirement, we put our several modes with different specifications to suit flatlet, villa, hotel and factories. , etc
Easy installation
In order to suit different kinds of building construction, we search and produce several kinds of bracket construction, which are convenient to install and handsome appearance.
Tank specification
Inner tank material:
Option A.) SUS304-2B stainless steel 1.2mm thinck
Option B.) enamelled steel 2.5mm thick
Option C.) Jacket enamelled steel 1.6mm thick, jacket 1.2mm thick (closed loop)
Outer tank material: Colored steel sheet 0.4mm thick
Tank capacity: 100Liter-300Liter
Optional spare parts:
digital controller
electric element
Frame specification:
Option A.) Stainless steel 1.2mm thick
Option B.) Galvanized steel 1.5mm thick
Option C.) Aluminum alloy 2.0mm thick
Test pressure: 12bar (working pressure: 7bar/0.7MPa)
Lowest working temperature: -25℃
Our Service
Sample can be offered with sample charge and courier fee by buyer's side.
 We have full stock,and can deliver within short time.Many styles for you to choose.
OEM and ODM order are accepted, Any kind of logo printing or design are available.
 Good Quality + Factory Price + Quick Response + Reliable Service, is what we are trying best to offer you
 All of our products are produced by our professional workman and we have our high-work-effect foreign trade team, you can totally believe our service.
 We have rich experience of design, manufacture and sell solar water heater, we cherish every order from our honor.
Other geysers heater options
Related Searches: Flat plate solar water heater | Electric storage water heater | Air source water heater
Want to know more?(Solar Water Heater)
Email: [email protected]
WhatsApp:+86 157 2077 3477
Skype :+86 157 2077 3477