We are one of the manufacturers of solar water heaters in China. At the same time, we are also a reliable supplier, we provide wholesale products.Our products are available in both pressurized and non-pressurized categories. Vacuum tubes are mostly unpressurized, flat plates are under pressure, and our products are used in large quantities in apartments, residential rooftops, etc.
As we all know, solar energy is green, pollution-free, long-term use to save pockets.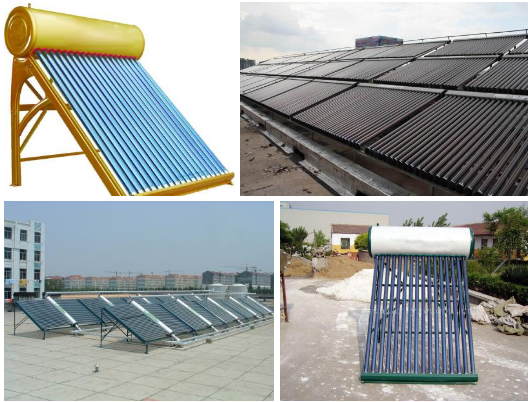 Why solar water heaters are developing very well in China?
The introduction of solar thermal energy heating systems (water heaters), which use solar energy solution directly as heat, is making progress in China,manufacturing and marketing Europe, and other areas. Solar water heaters make hot water from solar heat and are used to supply hot water to homes. China's installed capacity (cumulative total) as of the end of 2010 in particular accounted for approximately 70% of the world's, with a difference of more than ten-times the capacity compared to the second-place Turkey.
Solar water heater product & price list
Stainless steel low pressure solar water heater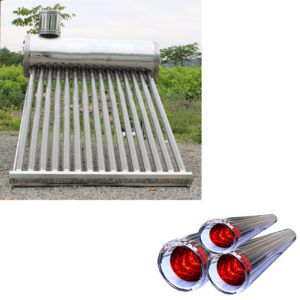 The cheap and reliable solution, Simple structures, Easy installation.

The high efficiency of heating, water heated by sunlight directly.
Withstands water pressure no more than 0.1MPa.
Operated without any power supply.
An electric heater can be used as a back-up in rainy days.
Hot water can be used directly or can be used as a pre-heater.
Water flow in the vacuum tubes and is operated when confined.
The tank is equipped with an electric water heater setting, an automatic temperature controller(optional ).
the insulating layer uses polyurethane bulk bubble, keep hot water 72 hours.
| | |
| --- | --- |
| Tank capacity ( ltr) | price($) |
| 50 | 90 |
| 100 | 120 |
| 200 | 180 |
| 300 | 200 |
Flat plate solar water heater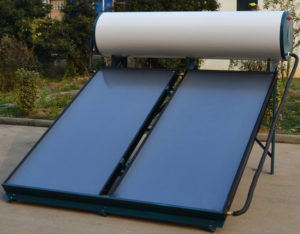 Safe and steady
Flat plate solar collector uses all cooper fluid tube; System operating is steady; components are not easy to be damaged;
Pressurized operating
Working pressure is 0.6Mpa; designed pressure is 1.2Mpa; the hot water is forced to stream out from the top; it is convenient to use.
High heat efficiency
Absorbing coating of the collector is black chrome and blue sputtering; absorbing rate is 92-96%, and the emission rate is 5%-15%; heat efficiency is high
Good temperature preservation
Thickness illustration layer is 50mm; constant temperature high pressure solar geyser price quantitative foam; less than 5 Celsius Degree per 24
Long using life
The inner tank is 1.2-2.0mm stainless steel; resist high temperature and corrosion; 15 years using life.
Several models fulfill a different user need
According to customers' requirement, we put our several modes with different specifications to suit flatlet, villa, hotel, and factories. , etc
| | |
| --- | --- |
| Tank capacity ( ltr) | price($) |
| 100 | 250 |
| 200 | 340 |
| 300 | 500 |
Heat Pipe Collector Solar Water Heater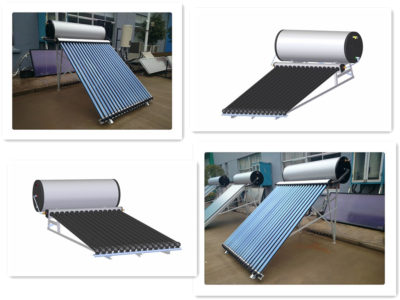 A heat pipe that's inserted into the fin absorbs this heat and transfers it to the copper header at the highest of the collector. mini solar water heater, the warmth pipe may be a skinny copper tube that contains a little quantity of alcohol liquid. Once the warmth pipe is subject to the a little quantity of warmth the liquid within vaporizes and turns into steam. It then rises to the highest of the warmth pipe wherever it reaches a condenser. Once the warmth is far away from the condenser by a heating fluid like water or a mix of water and glycol, the alcohol returns to the lowest of the warmth pipe wherever it repeats its cycle. domestic solar water heater, The condenser is inserted into a copper manifold wherever the warmth is transferred to the heating fluid passing through the manifold.
| | |
| --- | --- |
| Tank capacity ( ltr) | price($) |
| 100 | 280 |
| 200 | 380 |
| 300 | 580 |
Split type solar water heating system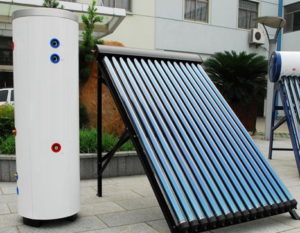 Tank Specification
Inner tank material:
Option A.) SUS304 1.2mm thick
Option B.) Enamelled steel 2.5mm thick
Outer tank material: Color steel 0.5mm thick
Insulation: polyurethane 50mm thick
Heat exchanger material
stainless steel or copper coil or enameled steel coil (single or dural or no coil)
| | |
| --- | --- |
| Tank capacity ( ltr) | price($) |
| 100 | 280 |
| 150 | 320 |
| 200 | 380 |
| 250 | 420 |
| 300 | 580 |
| 400 | 640 |
| 500 | 720 |
Why are there many solar water heater manufacturers in China?
The government is proactively promoting its use as part of its environmental measures
Chinese's economy is developing and its living standards are on the rise
China's proprietary technology is advancing and it is supplying markets with high quality products
Solar water heater china industry in particular got its start in the latter half of the 1970s, and is comprised of an integrated industrial chain that extends all the way from processing the raw materials to the manufacturing, sales, and servicing of water heater products.
ESCOO Solar heaters have been sold aboard to 87 countries around the world,and agencies have been set up in Germany, Poland, Australia. ESCOO series has been widely used in household, industrial and business. Please contact us if you are looking for a professional and friendly partner to promote your business.
In the context of a growing global energy crisis,has been established with a vision to identify and develop our efficient solar water heaters to satisfy our esteem customers. We are devoted to provide environmentally friendly solar energy to beautify our living space. We are looking forward to establish a close cooperation with clients from all over the world.
Our solar water heater product list
Stainless steel low pressure solar water heater   Evacuated tube solar water heater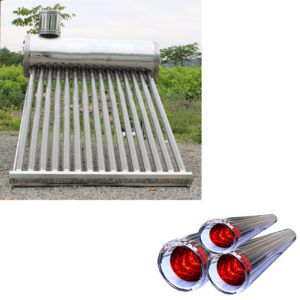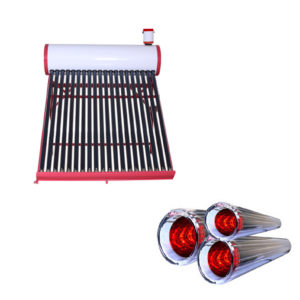 Glass Tubes Solar Water Heater               Flat plate solar water heater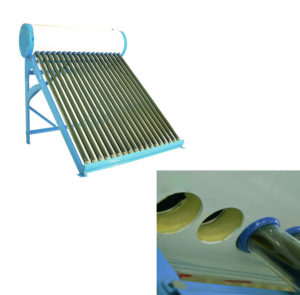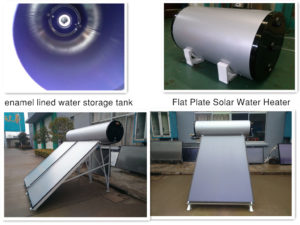 Electric storage water heater                       Heat Pipe Collector Solar Water Heater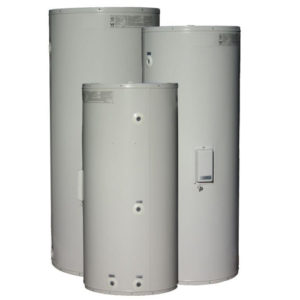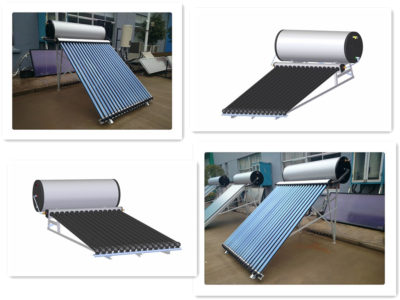 Split type solar water heating system      porcelain enamel lined storage tank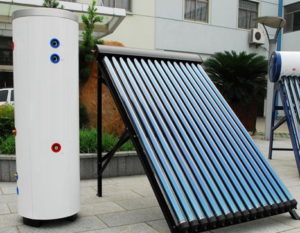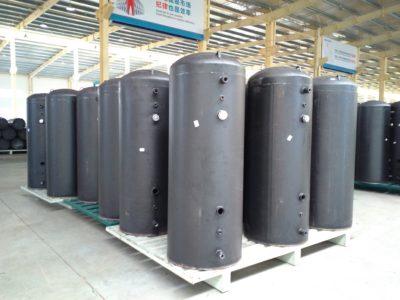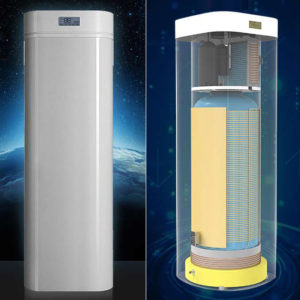 solar water heater china manufacturer
Solar thermal use, particularly the appliance of solar water heater technology, has developed apace in China in recent decades
. as a case study space to assess the performance of star warmer use in China.
The study can specialise in institutional setting, economic and technological performance, energy performance, and environmental and social impact
.
Results show that China has increased solar water heater use, that has brought China nice economic, environmental and social edges
.
But, technical flaws in solar water heater merchandise and social conflict about solar hot-water heater installation
.
For more development of the solar water heater, whereas the basic flat plate design has been around for a protracted time, and is that the most generally used variety of solar thermal panel for domestic plight provide,The introduction of solar thermal heating systems (water heaters), that use solar energy as heat, is creating progress in China, Europe, and alternative areas
.
Solar water heater manufacturer our service concept
1. functions of R&D Electric Water Heaters, type of solar thermal panel, solar thermal collector, solar geyser tank suppliers, Solar Water Heater For Customers According To Their Requirement. Provide The Strong Technology Support.
2. Manufacture Top Quality Products
3. Provide OEM Service
4. Make Values For Clients
solar water heater china
China's solar water heater manufacturers in China's consumer electronics industry, China's solar water heaters plant with the increasing trade capacity and innovation capacity, consumer electronics and electrical retail sales growth potential. Technological innovation and the need to replace or upgrade products have driven demand for it. Whether you need the best price or the best custom products.
This solar energy in China by examining two different solar energy technologies, solar water heaters (SWH). how different pathways for low carbon are promoted and challenged by China's changing financing and policy-making, and how they relate to changing practices among producers and consumers.
You may like:
Related Searches: Flat plate solar water heater | Electric storage water heater | Air source water heater
Want to know more?(Solar Water Heater)
Email: [email protected]
WhatsApp:+86 157 2077 3477
Skype :+86 157 2077 3477