Solar Evacuated Tube For Solar Water Heater Systems Three Elements Borosilicate Glass Solar Collector 58*1800,47*1500 , Find Complete Details about Solar Evacuated Tube For Solar Water Heater Systems Three Elements Borosilicate Glass Solar Collector 58*1800,47*1500,Solar Evacuated Tube,Evacuated Glass Tube,Solar Vacuum Tube from Solar Water Heater Parts Supplier or Manufacturer-ESCOO Solar Energy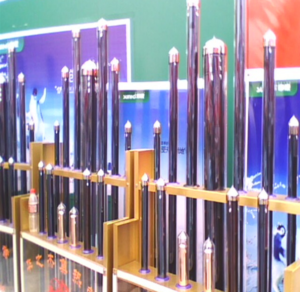 What is evacuated tube solar water heater?
Evacuated tubes are the fundamental functional parts for every solar collector, used to absorb and convert sunlight into usable energy. Evacuated tube basically consists of two glass tubes (twin glass tubes) fused at both ends. There is a vacuum layer (space) between them, with the inner tube consisting of a solar absorbing coating. The evacuated layer provides an outstanding insulation that helps in retaining over 92% of the solar energy.
Evacuated tube solar water heater advantages
High efficiency
The inner tube glass and heat pipe are positioned against each other, enhancing faster and high absorption of sunlight. The absorber coating is connected to a heat transfer fin, which conducts heat to the copper heat pipe.  This design ensures optimal performance for a longer period of time. The evacuated tube reduces heat loss through conduction and radiation, thus increasing the energy output regardless of the surrounding temperatures.
Optimum surface area exposure
The round absorber surface of the evacuated tube enhances optimized sunlight absorption due to its curved surface area. Therefore, it is easy to maintain because no mechanical device required for tracking sunlight throughout the day. It is more efficient compared to a flat absorber.
Why choose escoo as the best evacuated tube solar water heater system manufacturer in South Africa?
Heating your household water is the major consumer of energy in most homes. Solar Hot Water System will not only help the environment by reducing CO2 emissions, it can also reduce your hot water heating costs by up to 80%. ESCOO is a famous name that is majorly known to provide the best Solar products in South Africa.
We manufacture the quality solar evacuated tube systems that you can rely on. Also, one of the other reasons to choose us is our cost effective solar evacuated tube system availability. You can contact us anytime to get the best services and solar products.
And there is a guide about vacuum tube solar water heater suppliers, how do evacuated tubes work, you can check and learn how to fix those problems.
Related Searches: Flat plate solar water heater | Electric storage water heater | Air source water heater
Want to know more?(Solar Water Heater)
Email: [email protected]
WhatsApp:+86 157 2077 3477
Skype :+86 157 2077 3477