ESCOO is one of China's solar energy producers and its products are sold to various regions in South Africa such as Johannesburg, Pretoria, Nelspruit, etc.Our products are sold in Germany, the United States and New Zealand, and the products are of good quality and cheap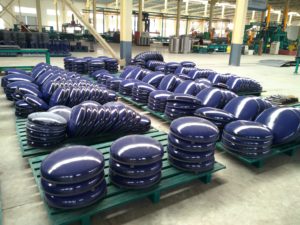 Best costs of solar geyser  Johannesburg
Solar Water Geysers.solar geysers price list, Premier provider of quality solar geysers Pretoria of South Africa and Johannesburg direct to the general public. Best costs on solar geysers.
Here is the price list of solar geyser product in pretoria
Stainless steel low pressure solar water heater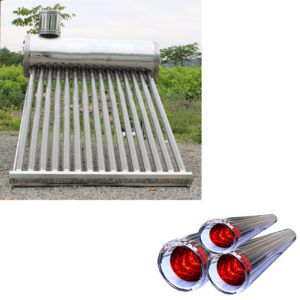 The cheap and reliable solution, Simple structures, Easy installation.

The high efficiency of heating, water heated by sunlight directly.
Withstands water pressure no more than 0.1MPa.
Operated without any power supply.
An electric heater can be used as a back-up in rainy days.
Hot water can be used directly or can be used as a pre-heater.
Water flow in the vacuum tubes and is operated when confined.
The tank is equipped with an electric water heater setting, an automatic temperature controller(optional ).
the insulating layer uses polyurethane bulk bubble, keep hot water 72 hours.
| | |
| --- | --- |
| Tank capacity ( ltr) | price($) |
| 50 | 90 |
| 100 | 120 |
| 200 | 180 |
| 300 | 200 |
Flat plate solar water heater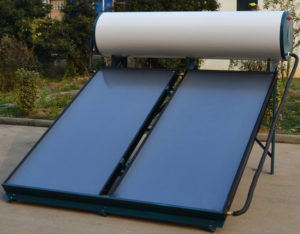 Safe and steady
Flat plate solar collector uses all cooper fluid tube; System operating is steady; components are not easy to be damaged;
Pressurized operating
Working pressure is 0.6Mpa; designed pressure is 1.2Mpa; the hot water is forced to stream out from the top; it is convenient to use.
High heat efficiency
Absorbing coating of the collector is black chrome and blue sputtering; absorbing rate is 92-96%, and the emission rate is 5%-15%; heat efficiency is high
Good temperature preservation
Thickness illustration layer is 50mm; constant temperature high pressure solar geyser pricequantitative foam; less than 5 Celsius Degree per 24
Long using life
The inner tank is 1.2-2.0mm stainless steel; resist high temperature and corrosion; 15 years using life.
Several models fulfill a different user need
According to customers' requirement, we put our several modes with different specifications to suit flatlet, villa, hotel, and factories. , etc
| | |
| --- | --- |
| Tank capacity ( ltr) | price($) |
| 100 | 250 |
| 200 | 340 |
| 300 | 500 |
Heat Pipe Collector Solar Water Heater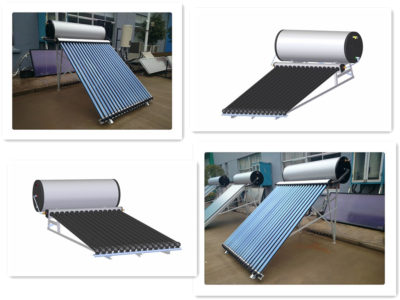 A heat pipe that's inserted into the fin absorbs this heat and transfers it to the copper header at the highest of the collector. mini solar water heater, the warmth pipe may be a skinny copper tube that contains a little quantity of alcohol liquid. Once the warmth pipe is subject to the a little quantity of warmth the liquid within vaporizes and turns into steam. It then rises to the highest of the warmth pipe wherever it reaches a condenser. Once the warmth is far away from the condenser by a heating fluid like water or a mix of water and glycol, the alcohol returns to the lowest of the warmth pipe wherever it repeats its cycle. domestic solar water heater, The condenser is inserted into a copper manifold wherever the warmth is transferred to the heating fluid passing through the manifold.
| | |
| --- | --- |
| Tank capacity ( ltr) | price($) |
| 100 | 280 |
| 200 | 380 |
| 300 | 580 |
Split type solar water heating system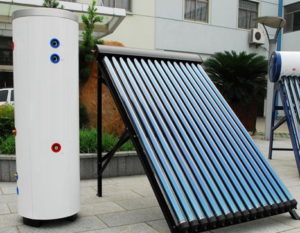 Tank Specification
Inner tank material:
Option A.) SUS304 1.2mm thick
Option B.) Enamelled steel 2.5mm thick
Outer tank material: Color steel 0.5mm thick
Insulation: polyurethane 50mm thick
Heat exchanger material
stainless steel or copper coil or enameled steel coil (single or dural or no coil)
| | |
| --- | --- |
| Tank capacity ( ltr) | price($) |
| 100 | 280 |
| 150 | 320 |
| 200 | 380 |
| 250 | 420 |
| 300 | 580 |
| 400 | 640 |
| 500 | 720 |
Corrosion-resistant solar geysers in Johannesburg, South Africa
The Solar Geyser installed in the interior of South Africa is exposed to freezing conditions in winter. Solar intermittent springs in Johannesburg, Pretoria,solar geyser cape town,solar geysers port elizabeth, free states and similar areas must be indirect. Only the indirect Solar Geyser can guarantee 100% frost resistance. ESCOO indirect stainless steel, double-layer jacket,geyser prices south africa, solar fountain is the most advanced technology in South Africa, with corrosion resistance, frost resistance and best heat transfer performance.
Alternative Energy finance
We believe in alternate energy, because it is healthier, and promotes the health of mother nature! solar geysers johannesburg prices,So we would like to make it as easy as possible for you to be part of this revolution! Therefore we even give you the opportunity of applying for finance from us!solar geysers johannesburg,We have taken the liberty of doing your research for you!
Renewable hot water supply
Solar geysers in capital of South Africa and Johannesburg ar the most effective renewable possibility for water heating and ESCOO will assist you in obtaining the most effective
what is solar geyser in Nelspruit
The weather in Nelspruit is the perfect environment for a solar geyser that can save its owner a considerable ammount of money on their electricity costs as well as reducing their carbon footprint and creating a cleaner region at the same time.
Does Nelspruit have solar product suppliers?
Find Nelspruit suppliers of solar power products, solar panels, solar garden lamps, solar powered geysers, solar geyser installations to diy solar power swimming pool heating and solar batteries in Nelspruit.
solar geyser used in Pretoria
Sun geysers for domestic and commercial use, solar panels and sun water heating structures. solar geysers manufacturing in pretoria, south africa.
And there is a guide about geyser for sale, escoo solar geysers gauteng, you can check and learn how to fix those problems.
Related Searches: Flat plate solar water heater | Electric storage water heater | Air source water heater
Want to know more?(Solar Water Heater)
Email: [email protected]
WhatsApp:+86 157 2077 3477
Skype :+86 157 2077 3477