According to our understanding, flat panel solar collector is a device that absorbs solar radiation thermal energy and transfers heat to working substance. It is a special heat exchanger, in which the working substance exchanges heat with the long-distance sun. These devices are mainly used for active solar heating and allow the heating of water for personal use. Plate solar collectors are made up of heat Absorber plate core, shell, transparent cover, insulation material and related parts. They have fashionable appearance, high performance, multi-function, easy installation and strong field test durability. We offer solar collectors, solar water heaters, enameled water tanks, etc.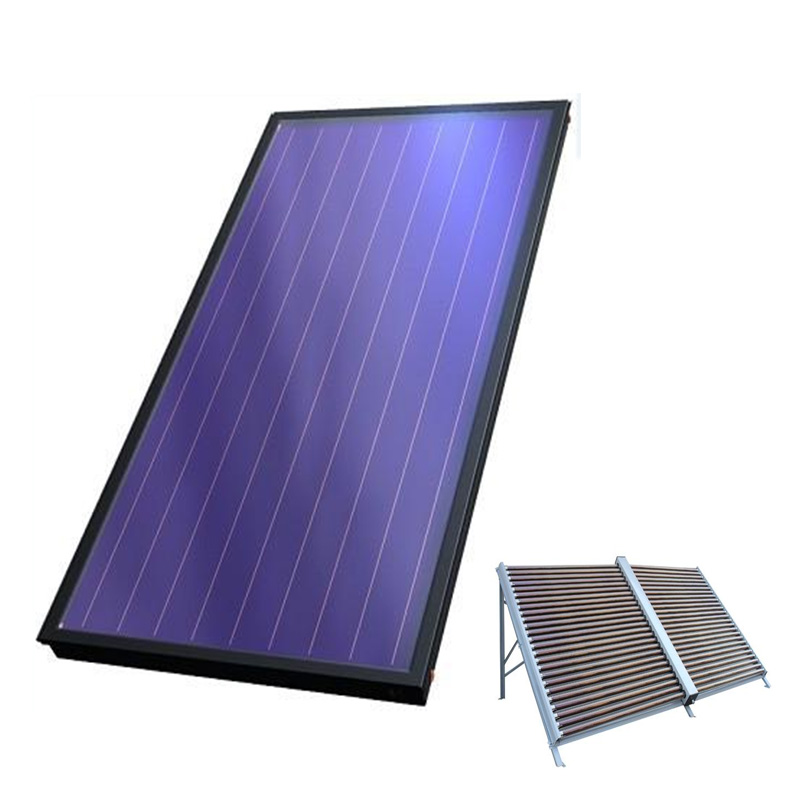 What is solar collectors?
A solar collector is a device for collecting and/or concentrating solar radiation from the Sun described. These devices are mainly used for active solar panels and allow heating of water for personal use. These collectors are usually installed on roofs because they are exposed to different weather conditions and must be very strong.
Type of solar collector
There are many different types of use of these solar collectors, but they are all built with the same basic premises in mind. Usually, solar thermal colector , there are materials that collect and focus energy from the sun and use it to heat water. One of the simplest of these devices is to use black material around the pipeline through which water flows.

Black materials absorb solar radiation very well, and when they heat the water around them. This is a very simple design, but the flat panel can become very complex. Absorbing plates can be used if high temperatures are not required, but devices that usually use reflective materials to focus sunlight lead to higher temperature applications.
Different types of solar collector YouTube guide
Guide to purchasing solar collectors
Solar flat plate collector is manufactured by laser welding to improve its performance and aesthetics. Laser welding of absorption tubes ensures very high mechanical bonding to withstand high temperature gradients and thermal expansion. These collectors are made of the highest absorption coating in the industry, namely vapor deposition coating.
The building aluminium angle inside the collector includes special pin clips and rivets to ensure high stability. Silicon is not used on the collector. Extruded parts of ribbed aluminium alloy and smooth compressed EPDM gaskets provide water tightness. This allows easy access to the collector at any time or place for maintenance or maintenance.
The glass washer on the equipment ensures long service life and avoids all water infiltration! It is also equipped with a general installation framework.
What are the types of solar collectors?
Vacuum tube collectors are the most efficient but expensive type of hot water solar collectors.
Batch flatplate heaters, also known as integrated collector-storage systems, have tanks or pipes in the insulating box, glazed liquid on the south side to capture the energy of the sun.
The flat plate collector is a box covered with glass or plastic and having a metal absorber plate at the bottom. Glass or coatings on absorption plates help passive solar hot water heater to better absorb and maintain heat.
What is a solar collector and how does it work?
The inside of the solar collectoris sometimesevacuated, the energy contained at intervals the solar collect is basicallycornered and therefore heats the agent contained within the tubes. The tubes are sometimesmade up of copper, and also theplate armor is painted black to assist absorb radiation.
What is the purpose of a solar collector?
solar-thermal collectors heating air. A easy solar air collector consists of an absorber fabric, from time to time having a selective surface, to seize radiation from the solar and transfers this thermal power to air through conduction heat transfer.
What is an evacuated tube solar collector?
Vacuum electrical engineering collector. ETC vacuum tube solar collector converts solar energy into available heat in solar hot water system. This energy can be used for home and commercial hot traditional domestic water heating, swimming pool heating, space heating and even air conditioning.
What are disadvantages of solar collectors?
dangers of solar electricity,The unpredictability of fossils fuels has spooked large players within the power region into exploring opportunity, renewable and cheap sources of power. the largest funding is visibly slanting toward sun, wind and hydropower. whilst hydropower still regulations the energy world, solar gives a clear preference for inexpensive power stepping into the future.
So, what is solar strength? it is power derived from the sun. Renewable electricity technology including solar cells and sun panels are used to harness the sun's energy to provide mild, warmness, hot water and technology of power for houses, organizations, and industries
There are also collector Guide.