As we all know, solar collectors pay attention to efficiency. We offer high performance solar collectors that generate heat at temperatures up to 302dF with outstanding performance. We can design solutions for large hot water users. We offer OEMs, this is a very interesting product, our goal is to sell high quality products and services only at reasonable prices.

Flat panel collectors are the most common solar thermal technology. They include an outer casing containing a dark absorbing plate with fluid circulation channels, and a transparent cover to allow solar energy to be transferred into the outer casing. The sides and back of the enclosure are typically insulated to reduce heat loss from outside air. The fluid circulates through the fluid passage of the absorber to remove heat from the solar collector.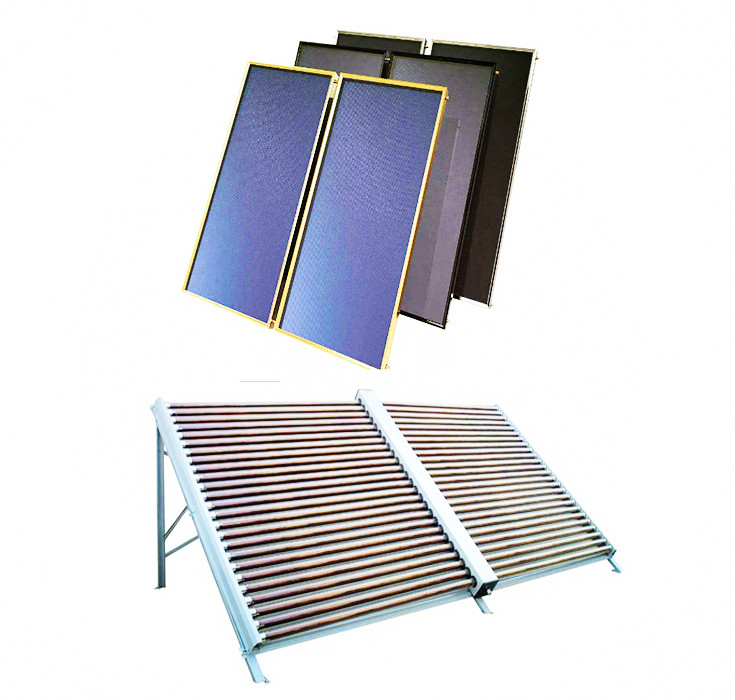 How does the solar thermal collector work?
Passive
Active
Difference
Passive solar space heating occurs when the sun shines through the windows of buildings and warms the room. Building designs that optimize passive solar heating usually have south-facing windows that allow the sun to shine on solar heat-absorbing walls or floors in winter. Solar energy heats buildings through natural radiation and convection. In summer, windows hang or block the sun from entering windows to keep buildings cool.
Active solar heating systems use collectors and fluids that absorb solar radiation. Fans or pumps circulate air or endothermic liquids through collectors and then transfer the heated fluids directly to the room or heat storage system. Active solar hot water systems usually have tanks for storing solar hot water.

Solar collectors can be either passive or active. By definition, passive systems do not depend on external energy to function, but use natural convection to transfer heat, which occurs at different temperatures in the fluid.
More realistically, this means that hot water rises as sunlight is collected and heat is absorbed. We now have natural movement or water flow.
Other common uses of passive solar systems include geysers or foam pumps, space heating, solar cookers and solar chimneys. There are two types of passive solar collectors on the market:
As you can guess, active solar technology does use external energy to operate, usually pumps and valves that handle heat transfer.
Solar collectors are usually divided into low, medium or high temperatures.

Solar water heater or solar collector type
How does a solar thermal collector work?
The main source of heat is the solar panels installed on the roof, which are used with boilers, collectors or immersion heaters. The solar collector will use solar light to heat the transfer fluid, usually a mixture of water and ethylene glycol (antifreeze), which prevents water freezing.
What is the function of solar collector?
Solar collectors heat air. Simple solar air collectors consist of absorbing materials, sometimes with selective surfaces, to capture radiation from the sun and transmit the heat to the air through conductive heat transfer.
Related Searches: Flat plate solar water heater | Electric storage water heater | Air source water heater
Want to know more?(Solar Water Heater)
Email: [email protected]
WhatsApp:+86 157 2077 3477
Skype :+86 157 2077 3477