SUS304 Solar Geyser Like most home solar geysers, the sus 304 Solar Geyser Price Image This device should be installed on the roof of a home. A solid structure and large scale may mean that such tasks are not easy to accomplish, but this corresponds to the fact that these same characteristics reflect their high quality, which means that once it has a maintenance mode installed.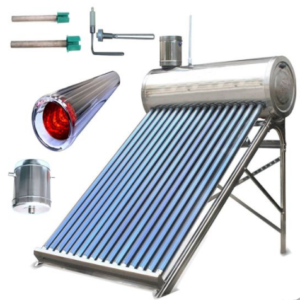 Product Description
Low Pressure Solar geyser Solar Geyser(Vacuum Tube Solar Collector) non-pressure solar geyser product and it is a solar energy device to convert solar energy into heat energy and stores it in the heat preservation water tank. It mainly relies on gravity for natural circulation. As it cannot bear pressure, it is a kind of open type solar water heater and generally also known as low pressure solar geyser. Due to its low cost, convenient installation and use, as well as to meet the hot water needs of general family, it is currently a more popular product in the solar geyser market.
Email:[email protected]
Product advantages
1. Economical type for most of area,common people can afford it
2. Simple product structure: solar collector and water tank connected together directly, no need of pipe to connect, and no pump to push fluid
3. Mature technology and stable operation
4. higher efficiency on photo thermal conversion.
5. Accessory is popular and easy maintenance
6. Perfect design, very suitable for family use.
7. The use of natural circulation, 100% solar energy and do not need to run cost.
8. Solar collector adopts a double-layer vacuum glass tube, high thermal efficiency and durable service life.
9. The use of plug-in connection between solar collector and insulation water tank and very easy to install.
10. Parts with low cost, no maintenance and no expensive maintenance costs.
11. The use of food grade stainless steel SUS304 manufacturing barrels, no pollution and no corrosion, to keep water quality clean and sanitary.
12. Using ultra-thick polyurethane insulation, a long time to keep the tank temperature constant.
13. Can be combined with the use of electricity, gas geyser price and other alternative energy
Email:[email protected]
solar geyser Specifications:
1) Inner tank thickness of solar heater: 0.4mm
2) Outer tank thickness of solar heater: 0.4mm
3) Inner tank of solare water heater: SUS304 food grade stainless steel.
4) solar geyser Outer tank:stainless steel 0.4mm
5)solar geyser tank capacity: 80L/100L/120L/150L/180L/200L/240L/250L/300L
6) Thickness of solar geyser holder: 1.5mm
7) Glass vacuum tube of solar geyser: 58mm x 1.8mm
8)solar geyser Insulating layer thickness: 50mm
9)Solar geyser tank diameter: 360mm/370mm/380mm
Remark:
1.Solar heat storage tank diameter(mm): 460mm/480mm
2.Thickness, insulated(mm): 50mm
3. Vent connection(inch): 1/2"or /3/4"
4. Electric heater 47mm 1500w, 3/4"
5. Water connection(inch): 1/2" or 3/4"
6. Collector angle(degree): 25-45
Email:[email protected]
You may like:
Related Searches: Flat plate solar water heater | Electric storage water heater | Air source water heater
Want to know more?(Solar Water Heater)
Email: [email protected]
WhatsApp:+86 157 2077 3477
Skype :+86 157 2077 3477