If you want customized non-pressure solar water heaters, you can visit our website in depth, we can also provide high-pressure solar customization, we will provide efficient services, you can write to us email, We will reply you even if you.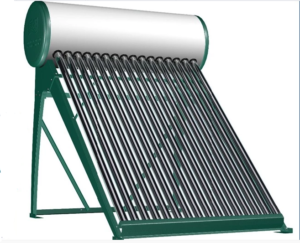 Product Description
---
Non-Pressurized Compact Integrated Vacuum Tube Solar Hot Water Heating Stainless Steel Heat Pipe Energy System Low/High Pressure Solar Water Heater.
This non-pressure 100l geyser system relies on natural principles – "thermosiphon." When sun rays strike an evacuated solar collector tube, the temperature of the water in the tube rises to a certain level of heat, making the water less dense or lighter. The hot water naturally moves to the top of the collector and is transferred to the storage tank throughout the evacuated collector piping. The cooler water in the tank then moves down to the bottom of the collector. This process is a continuous heat treatment process. 100% natural water is heated from the sun and a specially designed vacuum tube is used for vacuuming.
Email:[email protected]
product features
---
1. Economical type for most of area,common people can afford it
2. Simple product structure: solar collector and water tank connected together directly, no need of pipe to connect, and no pump to push fluid
3. Mature technology and stable operation
4. higher efficiency on photo thermal conversion.
5. Accessory is popular and easy maintenance
non pressure Solar water heater Specifications:
---
1) Inner tank thickness of solar heater: 0.4mm,360mm/370mm/380mm
2) Outer tank thickness of solar heater: 0.4mm,460mm/470mm/480mm
3) Inner tank of solare water heater: SUS304 food grade stainless steel.
4) solar water heater Outer tank: Colorful steel, 0.4mm
5)solar water heater tank capacity: 80L/100L/120L/150L/180L/200L/240L/250L/300L
6) Thickness of Solar water heater stand: 1.5mm
7) Glass vacuum tube of solar water heater: 58mm x 1800mm
Remark:
1.Solar heat storage tank diameter(mm): 460mm/480mm
2.Thickness, insulated(mm): 50mm
3. Vent connection(inch): 1/2"or /3/4"
4. Electric heater:47mm 1500w,3/4"
5. Water connection(inch):1/2" or 3/4"
6. Collector angle(degree): 25-45
Our products exporting to over 20 countries, such as America, Germany, India, Tailand, Mexico, Brazil, South Africa, and so on. we will help you know it clear if you have any further questions.
You may like:
Email:[email protected]
Related Searches: Flat plate solar water heater | Electric storage water heater | Air source water heater
Want to know more?(Solar Water Heater)
Email: [email protected]
WhatsApp:+86 157 2077 3477
Skype :+86 157 2077 3477