How to save your cost in 150 litre solar water heater?150 liters of solar water heater prices are still very affordable, the following talk about the structure,Liner material: medium carbon steel (stable performance). Compressed polyurethane insulation in storage tanks to reduce nighttime heat loss. If used in hard water or salt water, no scale or pipe clogging will occur. Highly efficient triple coated vacuum tubes generate maximum heat in solar collectors.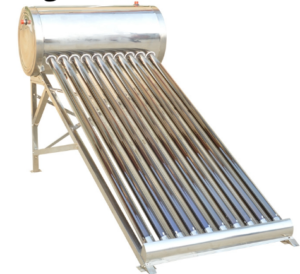 What to know more about price of 150 litre solar water heater?
You can now lower your electricity bill while ensuring that you do not have to rely on electricity to supply hot water when you invest in solar water heaters provided by ESCOO. ESCOO's solar 150 liter solar heater is designed for pressurized systems that have recently been widely used. The price is very affordable.
Email:[email protected]
How many people in your family need hot water?
Based on this, the quantity of required warming water needs to be determined. Assuming you have 3 people in your home, and each person uses 50 litres of hot water per day on average, then you need to buy a 50*3=150 litre solar water heater.
What is the budget for purchasing a new solar water heater?
As you may already know, solar products require more initial investment, so you need to look up different brands on the market and compare the price and functionality of the same solar water heater.
Technical Parameters
MODEL
COMPACT NON-PRESSURE SOLAR WATER HEATER
TANK
Inner tank
Enamel water tank,Food grade SUS 304 stainless steel
customized
Outer tank
Galvanized/Stainless steel, 0.4-0.6mm
customized
Tank Insulating layer
50mm high-density polyurethane foamed
Inlet and outlet hole
Male 3/4
ASSISTANT TANK
5L top assistant tank
VACUUM TUBE
3.3 Borosilicate glass with three-layer coating
customized
BRACKET
Stronger stainless steel, stainless steel screws & nuts
ACCESSORIES
Anode magnesium bar, electric heater, intelligent controller
Email:[email protected]
Related Searches: Flat plate solar water heater | Electric storage water heater | Air source water heater
Want to know more?(Solar Water Heater)
Email: [email protected]
WhatsApp:+86 157 2077 3477
Skype :+86 157 2077 3477