ESCOO heat pipe collectors measure capable of operating additional with efficiency for households in cold climate.Heat Pipe Collector solar water heater,The exhausted tubes square measure coated with a high performance selective interesting surface that minimizes the reflection of the sun rays.solar panels hot water heater, is that the most suitable option to avoid wasting the energy and price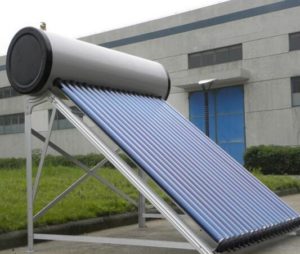 Performance
The job of the warmth pipes within the exhausted tubes is to apace transfer away the warmth.diy solar water heater, the warmth pipe capability should so be bigger than the exhausted tube's most output to avoid a bottle neck within the heat transfer chain.solar powered water tank heater, heat pipes have a median heat transfer capability of >110Watts. the most heat output of associate exhausted tube is around 65Watts.
Heat transfer effect
The Escoo heat pipe additionally options an outsized head that gives sufficient area for best heat transfer.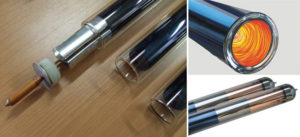 Product Description:
A heat pipe that's inserted into the fin absorbs this heat and transfers it to the copper header at the highest of the collector.mini solar water heater, the warmth pipe may be a skinny copper tube that contains alittle quantity of alcohol liquid.Once the warmth pipe is subject to alittle quantity of warmth the liquid within vaporizes and turns into steam. It then rises to the highest of the warmth pipe wherever it reaches a condenser. Once the warmth is faraway from the condenser by a heating fluid like water or a mix of water and glycol, the alcohol returns to the lowest of the warmth pipe wherever it repeats its cycle.domestic solar water heater, The condenser is inserted into a copper manifold wherever the warmth is transferred to the heating fluid passing through the manifold.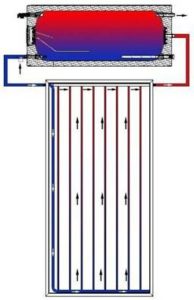 Flat work style
A manifold may be a copper pipe with a group of sleeves distributed on its length. every sleeve receives the compression finish of a heat pipe. At this intersection the fluid flowing through the manifold absorbs all the warmth from the condenser and continues through the manifold. this can be the simplest technology for star water heating on the market! for Flat water heater work schematic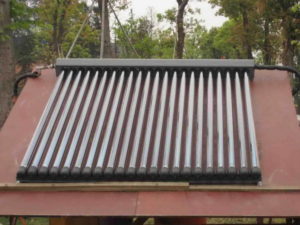 Tank specification
Inner tank material:
Option A.) SUS304-2B stainless steel 1.2mm thinck
Option B.) enamelled steel 2.5mm thick
Option C.) Jacket enamelled steel 1.6mm thick, jacket 1.2mm thick (closed loop)
Outer tank material: Colored steel sheet 0.4mm thick
Frame:
Option A.) Stainless steel 1.2mm thick
Option B.) Galvanized steel 1.5mm thick
Option C.) Aluminum alloy 2.0mm thick
Tank capacity: 100Liter-300Liter
Test pressure: 12bar (working pressure: 7bar/0.7MPa)
Lowest working temperature: -25℃
Heat pipe collector specification
Inner manifold: copper pipe φ35mmx1mm thick
Vacuum tube: AIN/AIN-SS/CU coating 58-1800mm, 2mm thick
Heat pipe: 0.6mm thick, φ14mm copper header
Outer manifold: Aluminum alloy 1.8mm thickness
Insulation: Rock wool or polyurethane(Density≥220kg/m3)
Frame: Aluminum alloy 2mm thick
Inlet&Outlet: 22mm
Optional spare parts:
digital controller
electric element
heat pipe solar YouTube guide
You may like:
Related Searches: Flat plate solar water heater | Electric storage water heater | Air source water heater
Want to know more?(Solar Water Heater)
Email: [email protected]
WhatsApp:+86 157 2077 3477
Skype :+86 157 2077 3477