About rooftop solar water heater price,  The first consideration is the efficiency of the solar water heater, and secondly, using the price calculator to give a reasonable solution, we provide the sale of solar water heaters. For the home, our products are suitable, we offer many types of products, we water Heating solution is more convenient than diy.
Our product quality is the same as Bosch, The price is very affordable.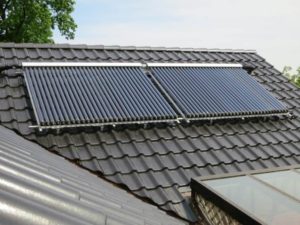 Rooftop solar water heater price list
| | |
| --- | --- |
| name | rooftop solar water heater |
| model | 6 tubes- 36 tubes |
| inner tank | Sus304-2B, thickness 1.2mm/ sus316 1.2mm or enamel |
| out tank | zinc steel plate 0.4mm/ stainless steel 0.4mm |
| Bracket | Zinc steel plate 1.5mm/ stainless steel 1.2mm |
| insulation | High density polyurethane foam 50mm/55mm/60mm |
| frame degree | 0 degree-45 degree. Dual-purpose frame for both flat and inclined roof |
| inner tank size | Inner tank diameter with 370mm |
| out tank size | Outer tank diameter with 470mm |
| vacuum tubes | Tri- element tubes 58*1800/47*1500 |
| capacity | 100L-300L |
| holding time | 72Hours |
| Hail resistance | 25mm |
| Max. Fluid pressure (Pa) | 0.6mpa |
| Operating fluid pressure (Pa) | 0.6mpa |
| Test pressure | 1.0mpa |
| Heat pipe | 90mm length condenser, 14mm diameter body, thickness:0.6mm |
| Price | $180-$500 |
Product description:
Due to our proficiency of this field, we are engaged in presenting Rooftop Solar Water Heater. We are presenting these products to customers within given time-frame.We are blessed with Solar Energy in abundance at no cost.
The solar radiation incident on the surface of the earth can be conveniently utilized for the benefit of human society. One of the popular devices that harness the solar energy is solar hot water system (SHWS).
Solar water heating (SWH) is the conversion of sunlight into heat for water heating using a solar thermal collector. SWHs are widely used for residential and some industrial applications.
A solar water heater consists of a collector to collect solar energy and an insulated storage tank to store hot water. The solar energy incident on the absorber panel coated with selected coating transfers the hat to the riser pipes underneath the absorber panel.
The water passing through the riser gets heated up and is delivered the storage tank. The re-circulation of the same water through absorber panel in the collector raises the temperature to 80℃ (Maximum) in a good sunny day. The total system with solar collector, storage water heater price and pipelines is called solar hot water system.
Solar water heating systems almost always require a backup system for cloudy days and times of increased demand. Conventional storage water heaters usually provide backup and may already be part of the solar system package. A backup system may also be part of the solar collector, such as rooftop tanks with thermosyphon systems. Since an integral-collector storage system already stores hot water in addition to collecting solar heat, it may be packaged with a tankless or demand-type water heater for backup.
Our solar water heater product list
Stainless steel low pressure solar water heater   Evacuated tube solar water heater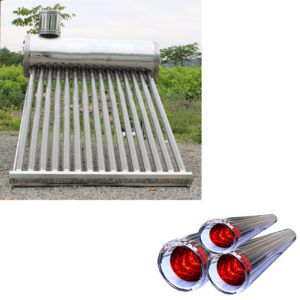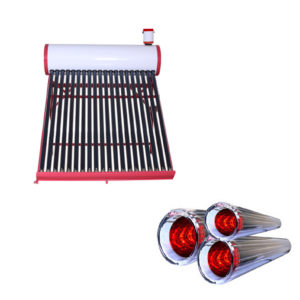 Glass Tubes Solar Water Heater               Flat plate solar water heater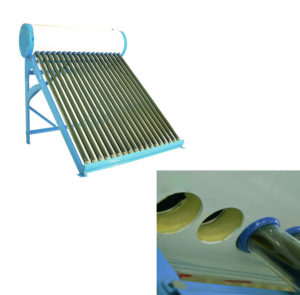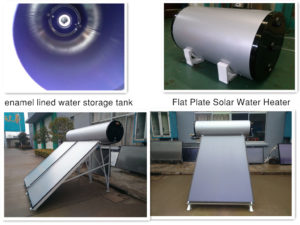 Electric storage water heater                       Heat Pipe Collector Solar Water Heater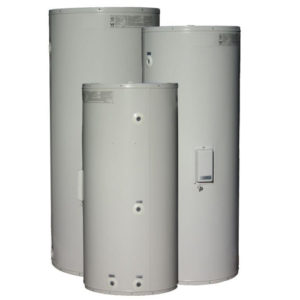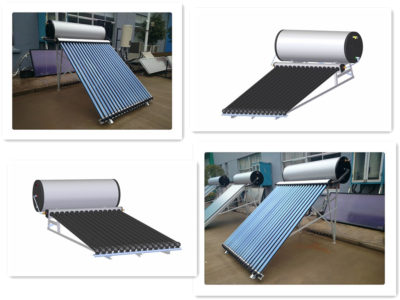 Split type solar water heating system      porcelain enamel lined storage tank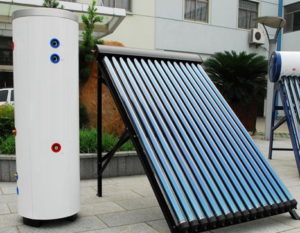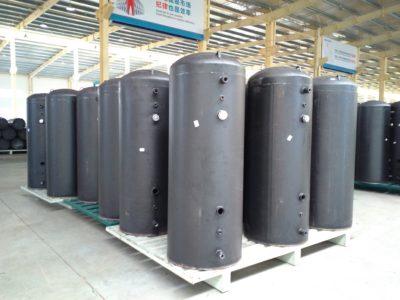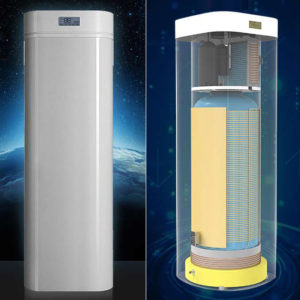 How much does it cost to install a solar hot water system?
For both solar and heat pump hot water systems, the final cost can vary as it depends on the cost of the system, installation and the solar hot water price list of STCs at the time of purchase. Solar power hot water systems range in price from about $3000 to $7000 fully installed.
Do solar hot water heaters save money?
Solar water heating systems usually cost more to purchase and install than conventional water heating systems. However, a solar water heater can usually save you money in the long run.
How much money you save depends on the following:
The amount of hot water you use
Your system's performance
Your geographic location and solar resource
Available financing and incentives
The cost of conventional fuels (natural gas, oil, and electricity)
The cost of the fuel you use for your backup water heating system, if you have one.
On average, if you install a solar water heater, your water heating bills should drop 50%–80%. Also, because the sun is free, you're protected from future fuel shortages and price hikes.
How much does a solar heating system cost?
The average homeowner spends $3,488 to install a solar water heater. There are installation and equipment considerations which put costs between $1,912 and$5,262. Higher-end models and components could cost up to $13,000.
How does a solar water heater work?
Direct systems circulate water through solar collectors where it is heated by the sun. systems use a non-freezing liquid to transfer heat from the sun to water in a storage tank.
The sun's thermal energy heats the fluid in the solar collectors. Then, this fluid passes through a heat exchanger in the storage tank, transferring the heat to the water.
You may like:
Related Searches: Flat plate solar water heater | Electric storage water heater | Air source water heater
Want to know more?(Solar Water Heater)
Email: [email protected]
WhatsApp:+86 157 2077 3477
Skype :+86 157 2077 3477