How to improve the efficiency of solar water heaters? The simple way is to choose a large dimensions collector plates, Roof solar water heater plans energy purchases more efficient vacuum tubes, and purchases large-sized heat collecting plates in split type, heating system,Forcing hot water to convect. This may increase costs, which is efficient. Escoo is our brands,Solar water heater capacity details: storage tanks ranging from 60-500l.Regarding the design of solar water heaters, we have a professional team, We also offer solar water heaters for sale.Order now for the latest 2018 solar water heater.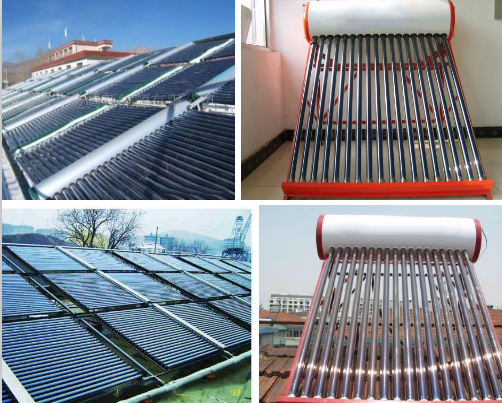 What is solar water heater efficiency?
A residential solar water heater consists of one or two rooftop panels. In some systems, tubes carry your water through the panels, where the sun heats it up directly; in others, those tubes carry an antifreeze-like liquid that later passes the sun's energy to your water through a heat exchanger. The hot water then flows into a water tank that looks just like your standard hot water heater.Technically, solar water heaters use sunlight more efficiently than photovoltaic systems, partly because of the complex series of interactions that happen in the photovoltaic panel. In addition, the silicon used in photovoltaic systems can't use as many wavelengths of light as the water heater, so some light goes to waste. Solar thermal systems convert 65 percent to 70 percent of the sun's energy into heat, while high-end photovoltaics top out at around 25 percent efficiency.
How to improve the efficiency of solar water heaters?
The efficiency and effectiveness of a solar water heating system will depend on the size and type of panels used, and on positioning them to maximise absorption of solar radiation.
Types of panels
Sizing panels
Positioning to maximise solar heat absorption
Positioning to maximise solar heat absorption
Solar intensity: This is determined by the available solar radiation energy (kWh/m²) at a particular location. Solar intensity is generally higher at more northern latitudes, in summer, in clearer air and when there is less shading.
Solar panel area: The larger the area, the more heat can be produced.
Solar panel tilt angle: The optimum installed angle for solar absorption is perpendicular to the sun. Determined over the year, this is equal to the latitude (e.g. 41.2º in Wellington), although winter sun angles are lower and summer sun angles are higher. Panels can be optimized for winter water heating by increasing the angle over the latitude angle.
Solar panel orientation: New Zealand sun is always in the north for all locations and all times of the year. Solar panels should be oriented to the north as much as possible. For maximum solar intensity, they should be oriented directly to the geographic or solar north.
What is a solar water heater?
Solar water heaters, also known as solar home hot water systems, can be a cost-effective way to generate hot water for your home. They can be used in any climate, and the fuel they use is free of sunlight.A solar water heater is a device that can be used to capture sunlight in order to heat the water in your pipes to be used for baths, showers, etc.
Solar water heater details: Solar water heating (SWH) is the conversion of sunlight into heat for water heating using a solar thermal collector. A variety of configurations are available at varying cost to provide solutions in different climates and latitudes. SWHs are widely used for residential and some industrial applications.
What are the brands of solar water heaters?
Rinnai, ARISTON, Vaillant, AO Smith,bose
How to choose solar water heater capacity
For a house with one bathroom and 1 to 2 members, 100 LPD capacity system should be sufficient. For a 4-6 member house, a 300LPD system is recommended. Generally the capacity is decided based on hot water required in mornings for bathing. If the usage is in evening & at other times also, the capacity is decided accordingly. Here are some useful calculation rules for estimating hot water demand:
| | |
| --- | --- |
| Application | Typical Requirement of Hot Water at 600  C |
| Household bathing using buckets | 8-20 liters per person per bath |
| Household bathing using shower with a mixing tap | 20-30 liters for 10-15 minute bath |
| Shaving, with running top (which should be avoided) | 7-10 liters |
| Household bathing in bathtub (one filling) | 50-75 liters |
| Wash basin with a mixing tap (hand wash, brushing of teeth etc.) | 3-5 liters per person per day |
| Kitchen washing | 2-3 liters per person per day |
| Dishwasher | 40-50 liters per wash cycle |
| Clothes washing machine | 40-50 liters per cycle |
How to design solar water heaters?
Solar water heater design some drawing guide
Solar water heating systems have a good economic payoff, and are manageable systems to install or build as a DIY project. Some of the solar water heating designs are very simple and low cost. You can save as much as $6000 by building your own system.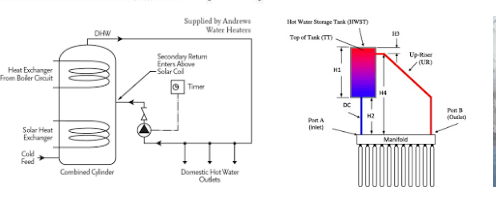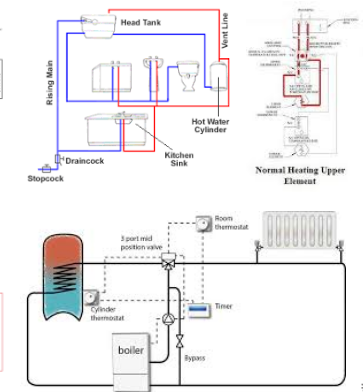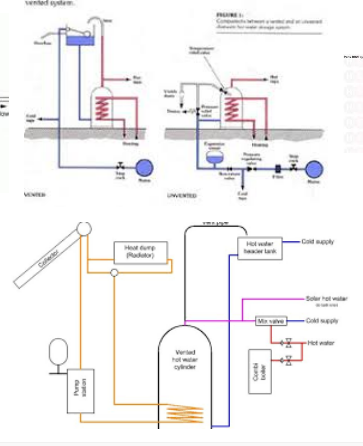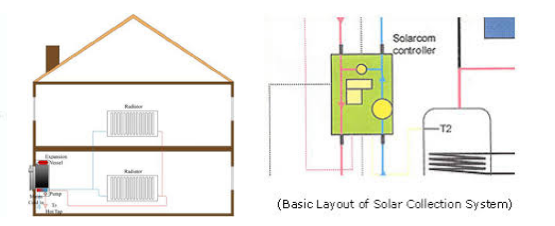 You may like:
Related Searches: Flat plate solar water heater | Electric storage water heater | Air source water heater
Want to know more?(Solar Water Heater)
Email: [email protected]
WhatsApp:+86 157 2077 3477
Skype :+86 157 2077 3477