ESCOO sus304 Solar Geyser Manufacturer, a high-tech company that sells solar geysers and solar geysers. Since its inception, the company has been sticking to the development path of technological innovation, actively promoting product innovation, and strengthening product quality through enhancement of product details.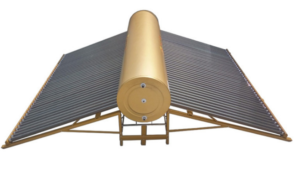 What is sus304 solar geyser manufacturers?
The ESCOO solar geyser manufacturer owns a number of patented technologies and has formed a series of solar energy products that are suitable for consumers at all levels and are deeply loved by consumers.solar geyser cape town,solar geyser johannesburg,They mainly include ordinary solar geysers, all-weather smart solar geysers, balcony-mounted solar water heaters, and villas. solar geysers, solar geysers that are built with buildings,solar geyser manufacturers in south africa, large-scale hot water supply systems, and other products.
Solar geyser Working Principle
Sus 304 solar geyser adopt simple thermal circulation, cold water heated by the collector, and then hot water go up to the tank, cold water in tank flow into collector, cold and hot water form a natural circulation in a solar geyser, the whole tank water will be hot water gradually.solar geyser price list, This model operates to feed water automatically. Using a thermosiphon system- depending on the different density between the solar hot water heater and cold water, a water flowing cycle is created in the tubes. Hot water flows automatically upwards while the cold water flows down. The water in the storage tank will be heated from this natural circulation.
Solar geyser Specifications:
Inner tank thickness of solar heater: 0.4mm
 Outer tank thickness of solar heater: 0.4mm
 An inner tank of solar water heater: SUS304 food grade stainless steel.
solar geyser Outer tank: galvanized steel 0.4mm
solar geyser tank capacity: 80L/100L/120L/150L/180L/200L/240L/250L/300L
 The thickness of solar geyser bracket: 1.5mm
 Glass vacuum tube of solar geyser: 58mm x 1800mm
solar water heater Insulating layer thickness: 50mm
Solar water heater tank diameter: 360mm/370mm/380mm
SUS 304 solar geyser Specialty:
Economical type for most of the area, common people can afford it
Simple product structure: a solar collector and water tank connected together directly, no need of pipe to connect, and no pump to push fluid
 Mature technology and stable operation
higher efficiency on photothermal conversion.
The accessory is popular and easy maintenance
You may like:
Related Searches: Flat plate solar water heater | Electric storage water heater | Air source water heater
Want to know more?(Solar Water Heater)
Email: [email protected]
WhatsApp:+86 157 2077 3477
Skype :+86 157 2077 3477