Customized Integrated type solar water heater, specially designed for villa, resort, rural residence and other residential housing design and development, placed in the roof and roof of the harmonious assembly, and can be combined with the surrounding environment and buildings, is the best product of the integration of solar energy architecture. It makes up for the shortcomings of traditional tube type solar water heaters, such as burst pipes and freezing pipes in winter, so it is difficult to maintain and waste water.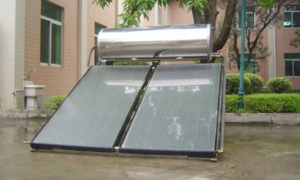 How does an integrated type solar water heater work?
The sun's radiant energy heats the solar collector. The solar collector's black absorber plate warms the heat transfer fluid inside. A pump circulates the heated transfer fluid through a heat exchanger in the storage tank where the potable water is heated. A pump returns the cooled heat transfer fluid back to the collector to repeat the cycle.
About customized integrated type solar water heater
Hot water is not only needed for residential but also for use in commercial buildings. Every building has different hot water requirements. For all systems in excess of 1500 LPD requirement, we are expert in providing customized solutions for commercial water heaters, be it for Hotels, Guesthouse, Hospitals, Kitchen, Laundries, Apartments, Universities etc.
ESCOO is known to be the best in residential and commercial water heaters in the world. In their range of commercial solar water heaters, their ESCOO flat plate collectors are designed to give high efficiency. If required they can be coupled with the auxiliary heating back-up of electrical, gas, heat pump along with the tankless water heater.
so that the building never runs out of hot water and ensure that even in the times if no sunlight or foggy weather conditions the system will perform to its best irrespective of the location.
In our customized integrated type solar water heater you will be more at ease
With the aid of latest machinery installed at our manufacturing unit, we have been able to offer best in class Customized integrated type Solar Water Heater to our valuable customers. To maintain the unmatched quality of the offered product range, we have installed the solar water heater on roof advanced testing tools at our state-of-the-art in-house quality testing unit.
You may like:
Related Searches: Flat plate solar water heater | Electric storage water heater | Air source water heater
Want to know more?(Solar Water Heater)
Email: [email protected]
WhatsApp:+86 157 2077 3477
Skype :+86 157 2077 3477