What is solar heater tank? The fact that the thermosyphon is used is that hot water rises above cold water. In the passive thermosyphon system, the water tank is always above the solar thermal .
When the sun shines, the water will be heated in the solar water storage tank for later use, usually at night. When the water in the pipe is heated, it rises to the top of the tank, causing cold water to flow down from the bottom of the tank heat exchanger the collector. Reading this article in detail can help you. we can provide solar heater tank for sale!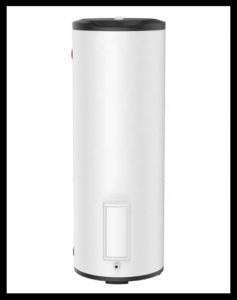 How does solar heater tank work?
The stainless steel solar water tank active solar water heater uses antifreeze as the working fluid in the system. This fluid carries the collector from the sun to a tank stored in a different location.
To exchange heat with the water in the tank, a external heat exchanger is required. Our solar water tank has a built-in copper heat exchanger, so the working fluid can pass through the coil to Heat transfer the internal water. Stainless steel tank is better than glass enamel tank.
Our tank is made of food grade stainless steel, with galvanized steel shell on the outer surface. which can improve the strength under high pressure.
Stainless steel has advantages in solar hot water applications. because it can withstand the high temperature generated by solar water heaters, has excellent corrosion resistance. can withstand the constant high pressure generated by continuous heating throughout the day.
The glass enamel tank is made of carbon steel and is lined with glass to protect the steel from corrosion. Unfortunately, these cheap water indirect heat exchange tanks . cannot withstand the constant pressure in a solar water heater system
Applications:
Hotel
At home
hospital
school
Specifications
| | |
| --- | --- |
| Model Number: | Capacity: |
| electric water heaters | 80-500L |
| Type: | Housing Material: |
| Evacuated Tube | Stainless Steel |
| Installation: | Product name: |
| Freestanding | solar water heater tank for home power |
| Certification: | Voltage (V): |
| CE, RoHS | 220/380 |
| Circulation Type: | Power (W): |
| Direct / Open Loop (Active) | 2000 |
| Connection Type: | Height: |
| Direct-Plug | 943 |
| Inner tank material: | Insulation thickness: |
| BTC 340R 1.8 | 50mm |
| Outer tank material: | Temp Cutting: |
| Colored Steel Sheet 0.5mm | 92°C |
Advantages
The benefits cross beyond cost financial savings and the availability of energy, which might be also realized with sun electric powered systems. right here are a few specific perks of home solar heater tank merchandise which could convince you to improve your private home.
Image for solar heater tank product


solar powered heater tank
solar heater storage tank
What s solar heat exchanger tank immersed tube?
How to use the immersion tube?
The heat exchanger tank has an immersion tube through the center of the tank. The dip pipe is combined in each water storage tank to guide cold water to the bottom of the hot water storage tank. When cold water flows to the bottom of the solar tank, it pushes hot water to the top of the tank.
What is immersion tube?
The "immersion tube" is a tube constructed to allow cold water to flow from the inlet at the top of the solar tank to the bottom of the tank where the rest of the cold water is located. The suction pipe brings cold water to the bottom of the tank, which pushes hot water to the top of the tank.
Three solar water tank systems are used in North America:
Solar preheating box
Solar combined electric tank
Solar double heat exchanger box
Preheat water tank for hot water heating
The first and most common configuration of solar heating tank is solar heating tank for hot water heating. This type of solar heating system is used in houses with existing water heaters (electricity, oil, gas, no water tank).
The preheating box stores the hot water heated by solar energy, and then draws it into the main box when the hot water tap is turned on. This type of system uses a large 14 square foot internal heat exchanger to heat the drinking water in the tank.
Solar and electric combination box
The second type of solar hot water tank is configured as a combination box with solar energy and electricity. The combined tank uses a built-in 14 ft2 heat exchanger at the bottom of the tank and a 4.5 kW heater element in the middle as a backup.
Solar hot water circulates through solar circuit and internal heat exchanger to heat water in water tank. The element is then added to the tank temperature and brought to the desired temperature. This type of system is very suitable for new houses or standby water tanks.
Dual solar heating application
The final type of solar tank configuration is suitable for dual solar heating applications and uses both top and bottom heat exchangers with / without electronics. In this tank configuration, the bottom heat exchanger heats the water from the bottom.
The upper heat exchanger circuit is located in the hottest part of the solar water tank (hot water rise). The hot water surrounds the upper coil and then transfers this heat to a second heating zone, such as a radiant floor circuit or a heat exchanger in the furnace that air to water.
This type of solar water storage tank configuration is designed for heating applications and / or domestic hot water.
How to adjust the size of solar water tank?
There are two important variables that you need to consider when finalizing a solar water tank. First of all, how much does everyone in the house cost? An average house will consume 20-30 gallons per person.
This includes shower water, cutlery and laundry. As a result, a family of two usually requires at least 40 gallons of oil. Second, for each gallon of hot water, you need the same number of square foot collector areas.
It is important not to exceed this number, otherwise you will find that in the summer peak month, your solar system may reach the limit temperature.
How to choose solar hot water tank system?
Solar hot water system is usually equipped with a solar hot water tank to store solar hot water.
Depending on the system design, a single water tank may contain both solar and auxiliary heating (natural gas, electricity, etc.), or a dedicated solar water tank may provide pre heated water to a second tank heated by conventional energy sources.
Tank design varies from country to country and market, depending on climate, local regulations and system design codes.
In smaller systems, a thermosyphon can be allowed to move water from the bottom of the tank to the top. Thermosiphonage is a natural trend for hot water because it's lighter.
As the heat exchanger heats up the drinking water, hot water will rise to the top port and draw in cooler water from the bottom port.
On large systems, especially commercial systems, an auxiliary pump can be used on the storage side to circulate the water in the tank.
benefit
Hot water with sunshine can reduce your cost. Your hot water fee will be zero after payment.
Solar water heaters do not shock or catch fire like electricity or fire-based hot water systems.
The solar water heater will not produce any smoke, so it will not make your house smell or dirty.
If you use fossil fuel gas or electricity to heat water, solar water heaters can help reduce the amount of carbon dioxide produced by households, thereby helping to fight global warming.
Solar water heater YouTube guide
What is solar storage tank?
The big extent sun heat trade tanks are designed for large sun thermal, sun heating, and sun aircon tasks. those huge solar storage tanks wide range of solar tanks allow for long term garage, or for excessive call for packages, which include space heating structures, or solar absorption chillers systems.
Which solar heater is best?
Best Overall: Duda Solar 200L Active Split System.
Runner-Up: Sunbank 40 Gallon Solar Water Heater.
Best for Camping: Sportneer Solar Shower Bag.
The vast majority of customers choose our products
What is indirect sun garage tank options?
gives each single wall and double wall indirect sun garage tank options that when combined with our direct solar storage tanks approach that irrespective of your solar garage tank wishes escoo offers the proper answer.
solar water heating structures encompass garage tanks and sun creditors.
inner Tank: meals Grade SUS 304-2B, Outer Tank: Galvanized steel 0.five mm thickness
these sun tanks are to be had for decent water garage, hot water heating systems, business, and industrial programs.
How to whole solar water tanks?
these sun garage tanks are available in pressurized, non-pressurized (atmospheric), and in a diffusion of capacties and sizes.
sun Water Tanks are North Americas only whole complete solar water tanks and are UL and CSA certified. in contrast to different tank manufacturers tanks come complete with big internal warmness exchangers and a returned up 4.five Kw electric powered detail multi function Tank!.
sun warm water system usually comprise a solar warm water tank that shops the solar heated water.
Can we drink solar heated water?
fitness professionals suggest: solar water heating can't be immediately consumed. these days, sun water warmers are getting more and more popular, some households with warmers and hot boiled meals, boil water to drink. Municipal fitness Bureau of health education professionals reminded the general public this practice is bad in your fitness.
What is regular sun water heater ?
solar water heater, device that makes use of solar warmness power to produce warm water. a regular sun water heater includes a solar collector hooked up at the roof of a building and connected to a water-garage tank.
experiment turned into done to analyze the affect of function of immersed coil warmness exchanger interior a storage tank at the charging and discharging performance of warm water tank.
sun panels heat water this is brought to a storage tank.
In -tank systems, the solar water heater preheats water before it enters the traditional water heater.
Related Searches: Flat plate solar water heater | Electric storage water heater | Air source water heater
Want to know more?(Solar Water Heater)
Email: [email protected]
WhatsApp:+86 157 2077 3477
Skype :+86 157 2077 3477