Vacuum tube solar water heater suppliers,the stainless steel and enamel solar water heater system includes a vacuum glass tube collector that can be used with care insulation containers and non-pressurized support elements (refill containers) prior to solar water heater work,Low pressure solar water heater. The depleted glass tube area device is filled with water and exposed to sunlight, thereby heating the water in the glass tube.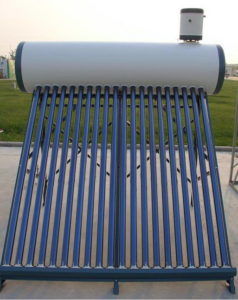 Heat Exchanger Manifold – Insulation pipe transfers low pressure solar water heaters to the top of the heat pipe and blocks in the heat transfer manifold of the collector. The diode solar heater, water flows through the manifold, allowing warm transfer from the copper heat pipe to the water, so the water in the tank is heated.
What is Evacuated Tube Solar Water Heater?
The solar Evacuated tube has high performance, high efficiency and long service life. Vacuum tube collectors are used in areas where the climate is colder, winter is longer, or where frequent overcast or overcast weather occurs.
Vacuum tubes are still a good choice for warm, sunny climates, as are flat-panel solar collectors.
Solar water heating systems using vacuum tube collectors as heat sources overcome this problem, because solar collectors use separate circular tubes, which are always perpendicular to solar light for most of the day.
In addition, another advantage of solar vacuum tube technology is that the solar tube is not filled with a large amount of heavy water, thus eliminating the weight and roof structure problems caused by standard flat panel systems.
This enables solar water heating systems using vacuum tube collectors to operate at higher efficiency and temperature for longer periods than traditional flat plate collector installation systems.
SRCC Certified Solar Evacuated tube Collector Series to provide efficient, economical and high performance solar hot water and solar space heating solutions. These vacuum tube solar water heater collectors are manufactured under strict quality control to ensure that the best quality products are installed in your home or business.
Our solar water heater product list
Stainless steel low pressure solar water heater   Evacuated tube solar water heater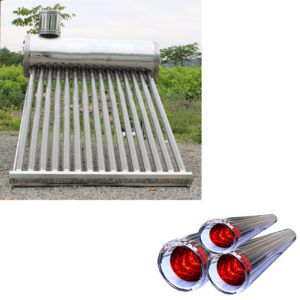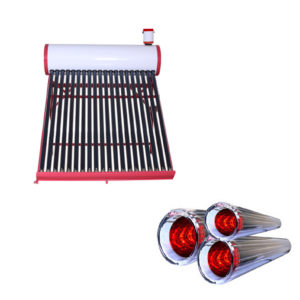 Glass Tubes Solar Water Heater               Flat plate solar water heater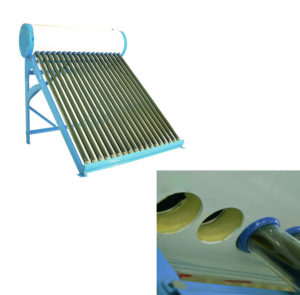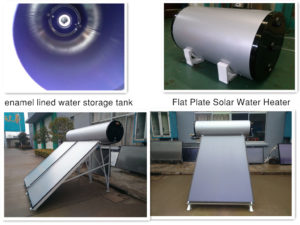 Electric storage water heater                       Heat Pipe Collector Solar Water Heater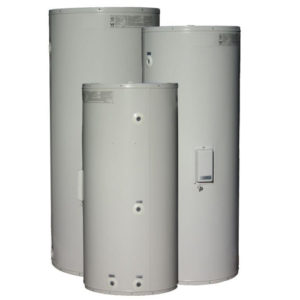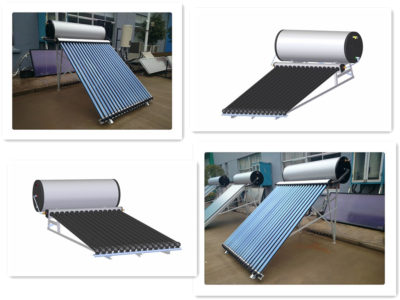 Split type solar water heating system      porcelain enamel lined storage tank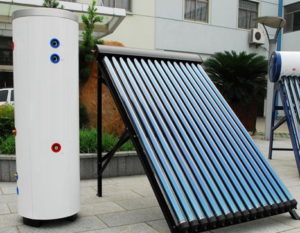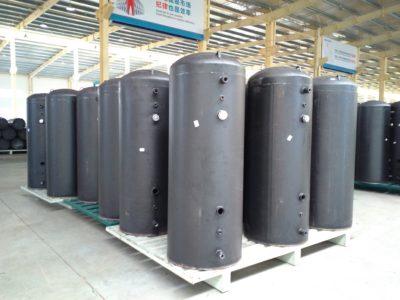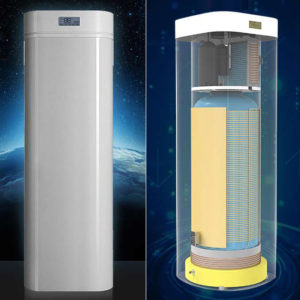 Introduction
Vacuum tube solar water heaters are devices which utilize the solar energy to heat the water from cold to hot, so they are solar products. Vacuum tube solar water heaters are made up of all-glass evacuated solar collector tubes which have function to change the solar energy to heat energy, storage water tank, stand and interrelated accessories. It is well-known that the temperature of the surface facing sun is high, while the other surface is low. So that water in the tubes has different temperature, and the warmer water rises while colder water sinks which leads to circulation and at last the needed hot water produced.
The Vacuum tube solar water heaters are one of large industries depending on the application solar energy. They supply pro-environment, energy-saving, safe and sanitary new water heaters for common people; solar water heaters are energy-saving equipments which absorb the radiant heat energy of sun, heater the cold water for people in daily life and production.
energy savings from solar panels, However, these solar water heating systems aren't optimized and thence unable to realize the energy savings expected despite their geographical locations and annual radiation received. Thus, these systems may be optimized supported the consumer's desires, geographical location and also the quantity of radiation received throughout summer and winter.
ETC solar collector consists of four main parts:
Overview of ETC Vacuum Tube Solar Collector
Vacuum tube (ET)
Absorbing solar energy and converting it into available heat. Vacuum insulation between two glass layers prevents heat loss.
Heat transfer fins help to transfer heat to heat pipes.
Heat Pipe (HP)
Copper vacuum tube transfers heat from ET to manifold.
Varied
Insulation box containing copper head tube. The head is a pair of corrugated copper tubes with a dry connection socket, in which the heat pipe is inserted.
Installation framework
Strong and easy to install
Evacuated Tube Solar Collectors
These tubes are made of a glass called borosilicate, which is the same base material as many heat-resistant glass products used in kitchens around the world.evacuated tube solar water heater manufacturer  Borosilicate glass has very strong properties and excellent transparency (> 92%@ 2mm thick).
Glass wall thickness greatly affects strength, life and cost. Vacuum tubes are customized to meet stringent requirements, exceeding industry standards, including 1.8 mm thick walls, ensuring excellent strength and elasticity against hail shocks.
This produces higher thermal efficiency in bright sunlight, but also in cloudy or diffuse sunlight. In addition, the tube is emptied and has a barium getter (vacuum indicator). If the solar vacuum tube water heater of the tube is damaged, the barium getter changes the color from silver to white.
The tube is made of low emissivity borosilicate glass (glass with very low iron content, excellent durability and heat resistance) and all glass sealing, and AL/N is used on AL selective coating, which makes the use of the whole solar energy possible. Energy spectrum generates heat.
Efficiency
The combination of highly efficient absorption coating and vacuum insulation means that the coating can exceed 200 o C/392 o F, and the outer glass can be touched coolly. In strong sunlight, each vacuum tube can provide over 60 W/204 Btu of water heating output.
How does a vacuum tube solar water heater work?
heat absorption→microcirculation→Insulating water tank→control system→home
solar water heater tubes utilizes the thermionic vacuum tube collectors to soak up heat, realizing the utmost exchange from lightweight to heat. then deliveries the recent water to insulating cistern via microcirculation, eventually to the user by specialised pipeline.solar vacuum water heater system mechanically managements the water to deliver to tank by control valve and controller. The auxiliary electrical booster put in within the tank is mechanically utilized in cloudy, rainy, and snowy weather, solar water heater tube price therefore it will save 90th energy
Tank specification
Inner tank material:
Option A.) SUS304-2B stainless steel 0.4mm thinck
Option B.) enamelled steel 1.6mm thick
Outer tank material: Option A.)Stainless steel sheet 0.4mm thick
Option B.) Colored steel sheet 0.4mm thick
Tank capacity: 100Liter-300Liter
Frame specification:
Option A.) Stainless steel 1.2mm thick
Option B.) Galvanized steel 1.5mm thick
Option C.) Aluminum alloy 2.0mm thick
Optional spare parts:
magnesium rod
electric element
auxiliary tank
digital controller
Our Service
Sample can be offered with sample charge and courier fee by buyer's side.
 We have full stock,and can deliver within short time.Many styles for you to choose.
OEM and ODM order are accepted, Any kind of logo printing or design are available.
 Good Quality + Factory Price + Quick Response + Reliable Service, is what we are trying best to offer you
 All of our products are produced by our professional workman and we have our high-work-effect foreign trade team, you can totally believe our service.
 We have rich experience of design, manufacture and sell solar water heater, we cherish every order from our honor.
purpose of the vacuum in evacuated tubes
the use of solar vacuum water heater extraction tube structures as closed systems for blood gathering reduces the threat of direct exposure to blood and has made it simpler to take multiple samples from a unmarried venepuncture.
make a solar vacuum tube Youtube guide
You may like:
Related Searches: Flat plate solar water heater | Electric storage water heater | Air source water heater
Want to know more?(Solar Water Heater)
Email: [email protected]
WhatsApp:+86 157 2077 3477
Skype :+86 157 2077 3477