The Porcelain enamel water heater originated in the United States 50 years ago. The enamel solar water heater gradually took the road of development and formed a perfect industrial system. In fact, the heat absorption efficiency of the collector pipe is no longer a difficult problem in the industry development. The heat absorption efficiency of the collector tube is quite obvious to the overall performance of the product.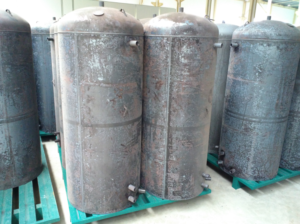 How the porcelain enamel water heater is produced?
Enameling steel is formable, which allows it to be made into many different parts. It is specially designed so that enamels will better adhere to the metal. The surface roughness is designed to encourage adhesion. Also, compared to regular steel, it has less carbon and the products' chemistry allows for hot enameling to adhere.
The low carbon and surface roughness is imperative for preventing defects while applying the enamel coating. Not only does the adhesion of the enamel matter, the appearance is important as well. If the carbon content of the metal is too high, then it can cause the release of gaseous CO and CO2 during the firing process. This can impact the appearance of the surface.
Finished enameled steel is fire resistant, and can handle a wide range of temperatures. This feature is a reason that it is used in many cooking products. The surface is extremely hard, making it scratch resistant. At the same time it still has the strength of the steel core, so it will not easily shatter. Enameled steel can handle thermal shock, unlike glass cookware. It is also resistant to corrosion and chemicals, making it ideal for washers and hot water heaters.
Our porcelain enamel water heater advantages
Our porcelain enamel water heater increases the storage capacity of any hot water system. ESCOO storage tanks efficiently maintain hot water, allowing heat losses of less than 1 degree Fahrenheit per hour. The glass lined steel tanks are specially formulated with high temperature porcelain enamel and fitted with heavy duty magnesium anode rods to resist corrosion and increase tank life, perfect for commercial and residential applications.
porcelain enamel water heater Feature:
porcelain enamel water heaters with a unique coating of porcelain/enamel for maximum corrosion resistance
Heating elements are treated with a double layer of magnesium oxide and copper to resist corrosion
Poly foam insulation provides superior insulating qualities
Surface mounted thermostat automatically cycles on/off to maintain desired temperature
Temperature and pressure relief valves are included
Related Searches: Flat plate solar water heater | Electric storage water heater | Air source water heater
Want to know more?(Solar Water Heater)
Email: [email protected]
WhatsApp:+86 157 2077 3477
Skype :+86 157 2077 3477