Wholesale pressurized tank solar geyser,solar geysers are widely used because of their advantages such as environmental protection and energy saving. At the peak of water use, there will be insufficient water pressure and normal usage. At this time, the pressurization of water heaters is a solution.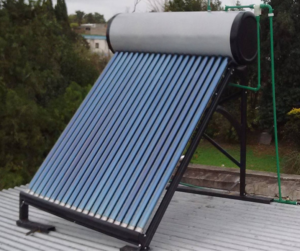 Withstand high pressure automatic solar geyser tank
Bear high pressure. Introduction for vision assistant tank:pressurized tank solar geysers are always work with an assistant tank for automatic water refill into main storage tank. The working theory is similar with flush lavatory, with a float ball valve inside assistant tank to control water filling, the assistant tank is usually installed on top of main solar water heater tank, with a stainless pipe connecting each other, when float ball descends, the valve connecting with float ball opens to let in city water,
High Pressure Tank Solar Geyser
The simple compact design leaves no space for extra components which can leak,pressurized tank solar geyser for sale, freeze, burst, lose heat, or simply stop working.
The heat pipes fit directly into the tank. There is only a sleeve inside the tank, so heat loss is minimal.
Because the whole system is on the roof,pressurized tank solar geyser, it is easier to install, which also cuts costs. It obviously cannot leak through a ceiling
This is a high pressure system. It can be used for city pressure, although it has been tested at much higher pressures.
Problems with freezing can be expected only at MINUS 35o Celsius.
All high pressure systems use a 1.2mm stainless steel tank.
There is an optional electronic control panel, which controls the electric backup element. This panel controls 1, 1.5 or 2 kW elements, and can even be plugged into a normal three point plug, as it draws less Watts than normal electric geysers.
A frequently asked question is about hail:pressurized tank solar geyser. All our systems use 2mm tubes, designed to withstand 38mm diameter hail. They are surprisingly cheap to replace.
Pressurized tank
 Tank material (exterior): 0.41 mm painted steel sheet
Tank material (interior): Stainless steel SUS 304
 Stainless steel thickness: ≥1.2mm
 Tank Capacity: 150L (18 tubes)
Maximum pressure: 0.9 Mpa \ 900kPa \ 9 Bar \ 8.88 atm
 Working Pressure: 0.6 MPa \ 600kPa \ 6 Bar \ 5.92 atm
Outer Tank Diameter: 480mm
 Insulation: 50-55mm polyurethane foam
 Inlet/outlet pipes: 22 mm  (¾ in)
 Electric backup element: 1kW
And there is a guide about high pressure solar geyser prices, pressurized tank solar geyser price list, solar geyser wholesale price, you can check and learn how to fix those problems.
Related Searches: Flat plate solar water heater | Electric storage water heater | Air source water heater
Want to know more?(Solar Water Heater)
Email: [email protected]
WhatsApp:+86 157 2077 3477
Skype :+86 157 2077 3477