China is one of the countries that make and use the largest SUS304 solar geysers. We have very mature technology and equipment. Choosing to cooperate with us can save you a lot of trouble, because our product is of great quality. Here we introduce the SUS304 solar geysers quotation in detail.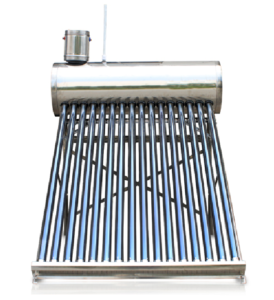 Sus304 solar geyser china
We manufacturer of solar water heater more then 30years in China.
Main products:Solar Water Heaters,Solar,Solar Panel,Solar Water System,Stainless Steel Solar,Solar Collector,Solar Tank,150l geyser price,Pool Heater,Solar System for Home,Hot Water Heater,Heat Pipe Solar Collector,Solar hot water heating system,Solar thermal collector,Pressure solar water heater,Swimming Pool Solar Heater,Solar Geysers etc.
Sus304 solar geyserAdvantages:
Highly Efficient absorber of high performance with daily average efficiency over 50%;
Start up quickly, heat pipe transfer the heat energy into the storage tank in one direction;
Withstand pressure of 6bar, can be connected to city water;
No water in tubes, the system will still in service even some of tubes broken;
Easy installation; Anti-freezing; 15years life span.
Working principle:
This model operates to feed water automatically. Using thermosiphon system- depending on the different density between solar hot water heater and cold water, a water flowing cycle is created in the tubes. Hot water flows antomatically upwards while the cold water flows down. The water in the storage tank will be heated from this nautal circulation.
Why choose SUS304 solar geyser?
SUS304 stainless steel storage tank is the best choice for the application of solar water heaters. They can withstand high pressure and excessive pressure from constant heating and cooling of solar water heaters throughout the day. Stainless steel has excellent corrosion resistance under various water quality conditions. The only week of the stainless steel tank is at the weld.
To protect the weld, we use magnesium anode rods which will corrode before etching any spots on the stainless steel or solder joints. If these poles are replaced on time, tanks can easily last for a long time, probably for a lifetime.
The stainless steel tank is obviously superior to the glass enamel storage tank, and the production cost is cheaper. If it is maintained properly, it can be maintained for a long time, but it will be risky for the use of solar energy.
You may like:
Related Searches: Flat plate solar water heater | Electric storage water heater | Air source water heater
Want to know more?(Solar Water Heater)
Email: [email protected]
WhatsApp:+86 157 2077 3477
Skype :+86 157 2077 3477