A Solar Geyser is a heating device that converts ,Solar geyser cape town,the sun's light energy into heat to heat the water from low temperature to high temperature to meet people's hot water use in life and production.
solar geyser cape town
Major differences in solar geysers in Cape Town
Solar geysers Cape Town and solar geyser in Joburg are pretty much the same. The location doesn't affect the type of solar geyser you can choose from. They all work with the sun, they all use panels or tube collectors, and they all provide enough hot water for the whole family. But let's break it down a little bit and get to know the main differences.
Solar geysers can be divided into two primary types:
Direct systems that pump water into solar panels, which is then heated and stored in the geyser. They can use either solar panels or evacuated tubes.
Indirect systems use a specially designed type of anti-freeze, which circulates through solar panels to heat the water, which then flows to a geyser. They also operate with solar flat plate or evacuated tubes.
Here is the price list of cape town solar geysers
Stainless steel low pressure solar water heater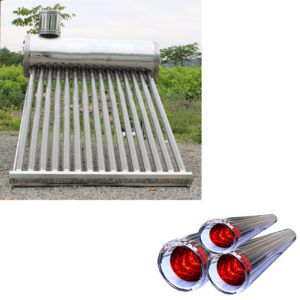 The cheap and reliable solution, Simple structures, Easy installation.

The high efficiency of heating, water heated by sunlight directly.
Withstands water pressure no more than 0.1MPa.
Operated without any power supply.
An electric heater can be used as a back-up in rainy days.
Hot water can be used directly or can be used as a pre-heater.
Water flow in the vacuum tubes and is operated when confined.
The tank is equipped with an electric water heater setting, an automatic temperature controller(optional ).
the insulating layer uses polyurethane bulk bubble, keep hot water 72 hours.
| | |
| --- | --- |
| Tank capacity ( ltr) | price($) |
| 50 | 90 |
| 100 | 120 |
| 200 | 180 |
| 300 | 200 |
Flat plate solar water heater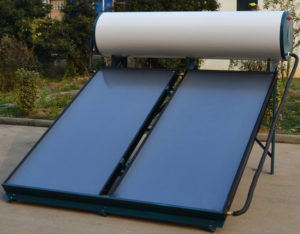 Safe and steady
Flat plate solar collector uses all cooper fluid tube; System operating is steady; components are not easy to be damaged;
Pressurized operating
Working pressure is 0.6Mpa; designed pressure is 1.2Mpa; the hot water is forced to stream out from the top; it is convenient to use.
High heat efficiency
Absorbing coating of the collector is black chrome and blue sputtering; absorbing rate is 92-96%, and the emission rate is 5%-15%; heat efficiency is high
Good temperature preservation
Thickness illustration layer is 50mm; constant temperature high pressure solar geyser pricequantitative foam; less than 5 Celsius Degree per 24
Long using life
The inner tank is 1.2-2.0mm stainless steel; resist high temperature and corrosion; 15 years using life.
Several models fulfill a different user need
According to customers' requirement, we put our several modes with different specifications to suit flatlet, villa, hotel, and factories. , etc
| | |
| --- | --- |
| Tank capacity ( ltr) | price($) |
| 100 | 250 |
| 200 | 340 |
| 300 | 500 |
Heat Pipe Collector Solar Water Heater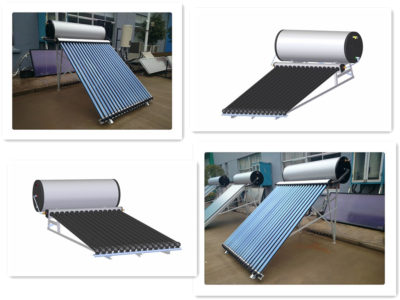 A heat pipe that's inserted into the fin absorbs this heat and transfers it to the copper header at the highest of the collector. mini solar water heater, the warmth pipe may be a skinny copper tube that contains a little quantity of alcohol liquid. Once the warmth pipe is subject to the a little quantity of warmth the liquid within vaporizes and turns into steam. It then rises to the highest of the warmth pipe wherever it reaches a condenser. Once the warmth is far away from the condenser by a heating fluid like water or a mix of water and glycol, the alcohol returns to the lowest of the warmth pipe wherever it repeats its cycle. domestic solar water heater, The condenser is inserted into a copper manifold wherever the warmth is transferred to the heating fluid passing through the manifold.
| | |
| --- | --- |
| Tank capacity ( ltr) | price($) |
| 100 | 280 |
| 200 | 380 |
| 300 | 580 |
Split type solar water heating system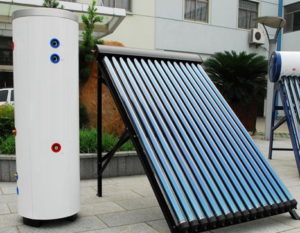 Tank Specification
Inner tank material:
Option A.) SUS304 1.2mm thick
Option B.) Enamelled steel 2.5mm thick
Outer tank material: Color steel 0.5mm thick
Insulation: polyurethane 50mm thick
Heat exchanger material
stainless steel or copper coil or enameled steel coil (single or dural or no coil)
| | |
| --- | --- |
| Tank capacity ( ltr) | price($) |
| 100 | 280 |
| 150 | 320 |
| 200 | 380 |
| 250 | 420 |
| 300 | 580 |
| 400 | 640 |
| 500 | 720 |
This is our geyser products
Solar Geyser Cost Case Study
Costs Case Study for installing a Solar Geyser in a home in Cape Town,All our solar hot water systems come from Cape Town approved suppliers of solar energy equipment. With a return on investment within 3 years, and an guaranteed lifespan of 15 years, installing a solar geyser in Cape Town as part of a water heating system in is the only way to go.
Solar Energy Supplier
An Solar Water Heating rebate is on offer when installing solar geysers on a registered system with a registered solar supplier / Cape Town solar geyser installer.
Solar geysers are heavily used on rooftops in Cape Town, South Africa
In South Africa, the Solar Geyser was used in large quantities and began to import and sell solar water heating systems in West Cape Province in Cape Town.
The average electricity account at that time was only R10 to R30 P / m, and the accounts of R100p / M and above were unthinkable. These early solar water heaters are still visible on the roofs of today's Western Cape province. These systems are also known as the solar geysers system.
Cape Town Sun Geyser Trend
t's not surprising that more South Africans are switching to solar geysers Cape Town style. Let's face it, it's a cool city. The people are nice, the sights are amazing, and it just captures the beauty of the country. Cape Town is also the city where you'll see a growing solar geyser trend, and it's not just because of the sunny skies.
Solar Geyser Cape Town
That's how basic and simple it is to choose a solar geyser. But now you're wondering how much you're going to save? For the most part people recoup their investment within the first two years. From there it's pretty much free hot water solar geysers Cape Town style.
You may like:
Related Searches: Flat plate solar water heater | Electric storage water heater | Air source water heater
Want to know more?(Solar Water Heater)
Email: [email protected]
WhatsApp:+86 157 2077 3477
Skype :+86 157 2077 3477